Regular price
$165.00 USD
Regular price
Sale price
$165.00 USD
Unit price
per
Sale
Sold out
Size guide
Women's Clothing Size Guide
| SIZE | BUST | AROUND ABOVE WAIST | AROUND WAIST | HIPS | US SIZE | UK SIZE |
| --- | --- | --- | --- | --- | --- | --- |
| XXS | 32" | 26" | 28" | 36" | 2 | 6 |
| XS | 34" | 28" | 30" | 38" | 4 | 8 |
| S | 36" | 30" | 32" | 40" | 6 | 10 |
| M | 38" | 32" | 34" | 42" | 8 | 12 |
| L | 40" | 34" | 36" | 44" | 10 | 14 |
| XL | 42" | 36" | 38" | 46" | 12 | 16 |
| XXL | 44" | 38" | 40" | 48" | 14 | 18 |
| 3XL | 46" | 42" | 44" | 51" | 16 | 20 |
| 4XL | 48" | 44" | 46" | 53" | 18 | 22 |
| 5XL | 50" | 46" | 48" | 55" | 20 | 24 |
| 6XL | 52" | 48" | 50" | 57" | 22 | 26 |
Product Details

Style: LASHKARAADN986

Color: Pink

Fabric: Net

Embroidery: Thread

Channel your inner star with this ravishing Hot Pink and Gold Embroidered Punjabi Suit. The net shirt has been rendered with monochrome embroidered motifs in shape of paisley designs repleted with thread work and hints of sequin. The neckline has been enhanced with a beautiful embellished lace and the hem  features a thick border of embroidered laces with a beads finish. The net dupatta has an extravagant display of multicolored hand crafted detailing and a thick border has been sewn on all four sides of the dupatta to add the perfect bling.

Like all of our pieces, this piece is made in India and checked by hand to ensure high quality.
Share
View full details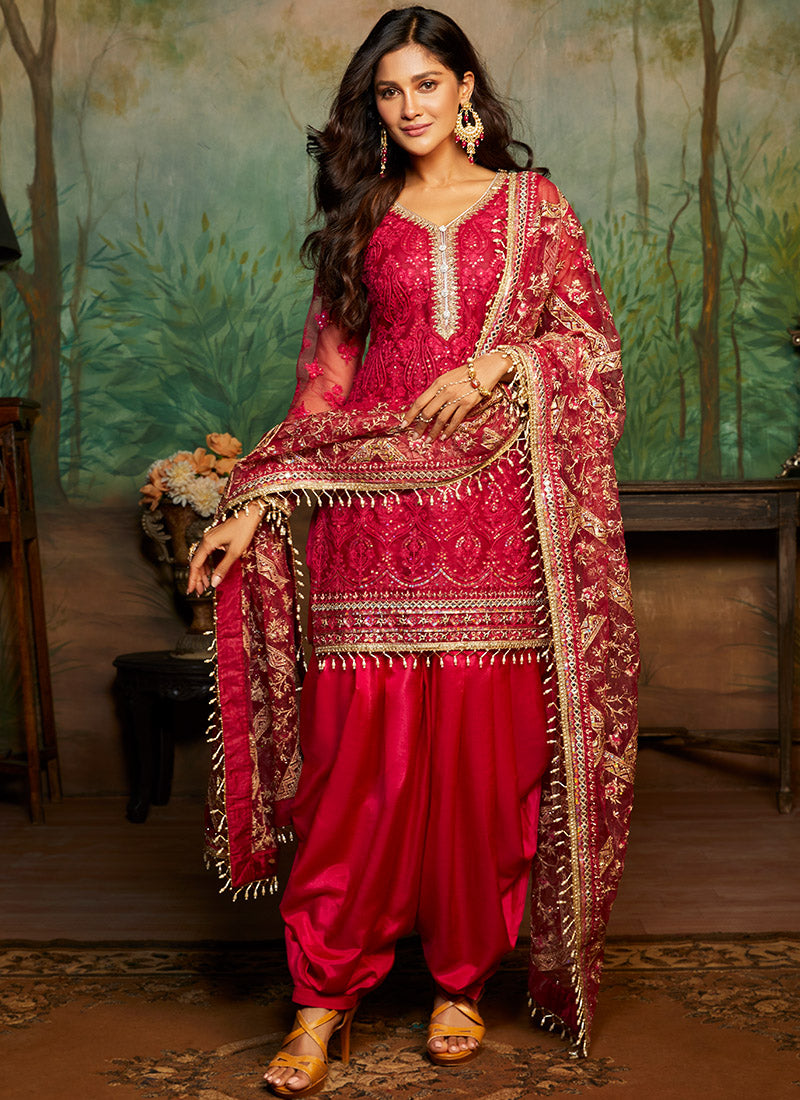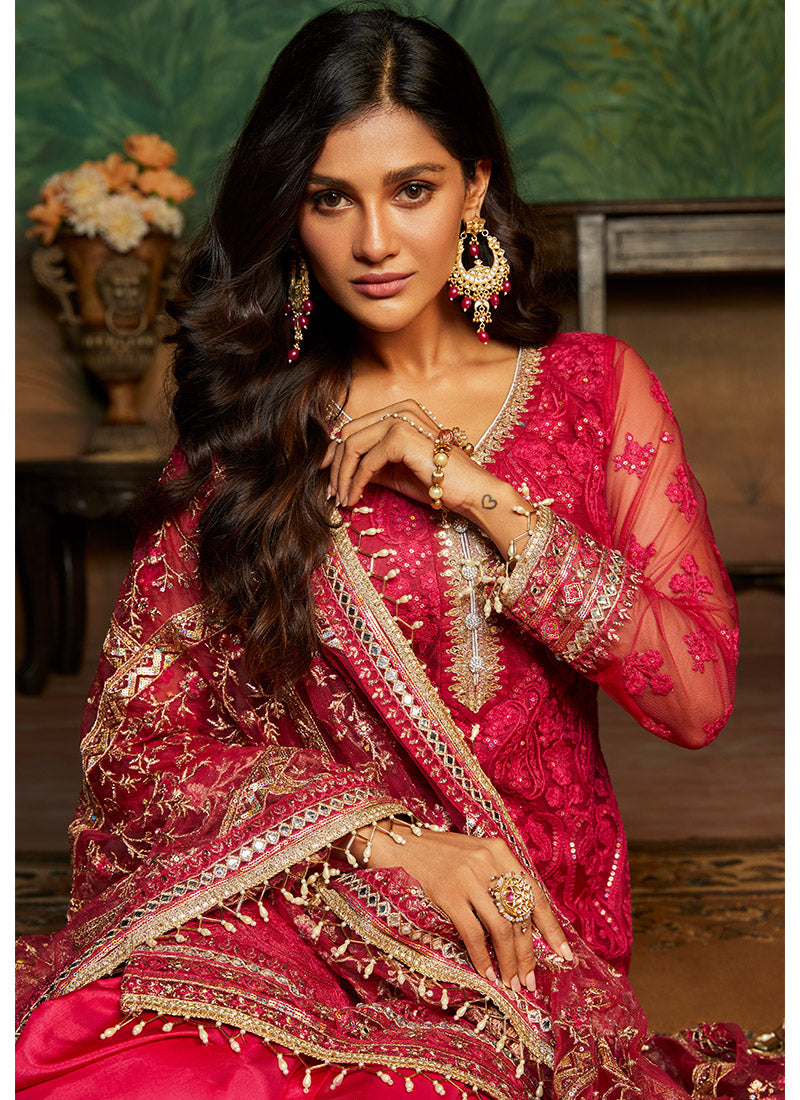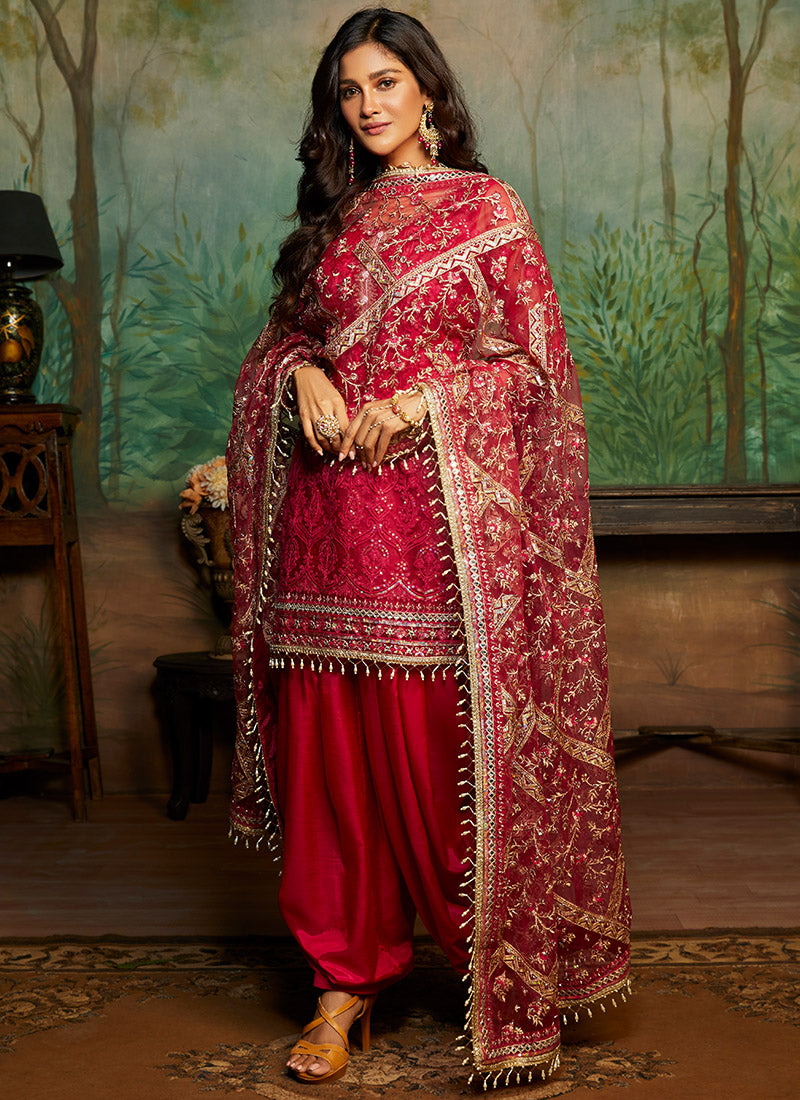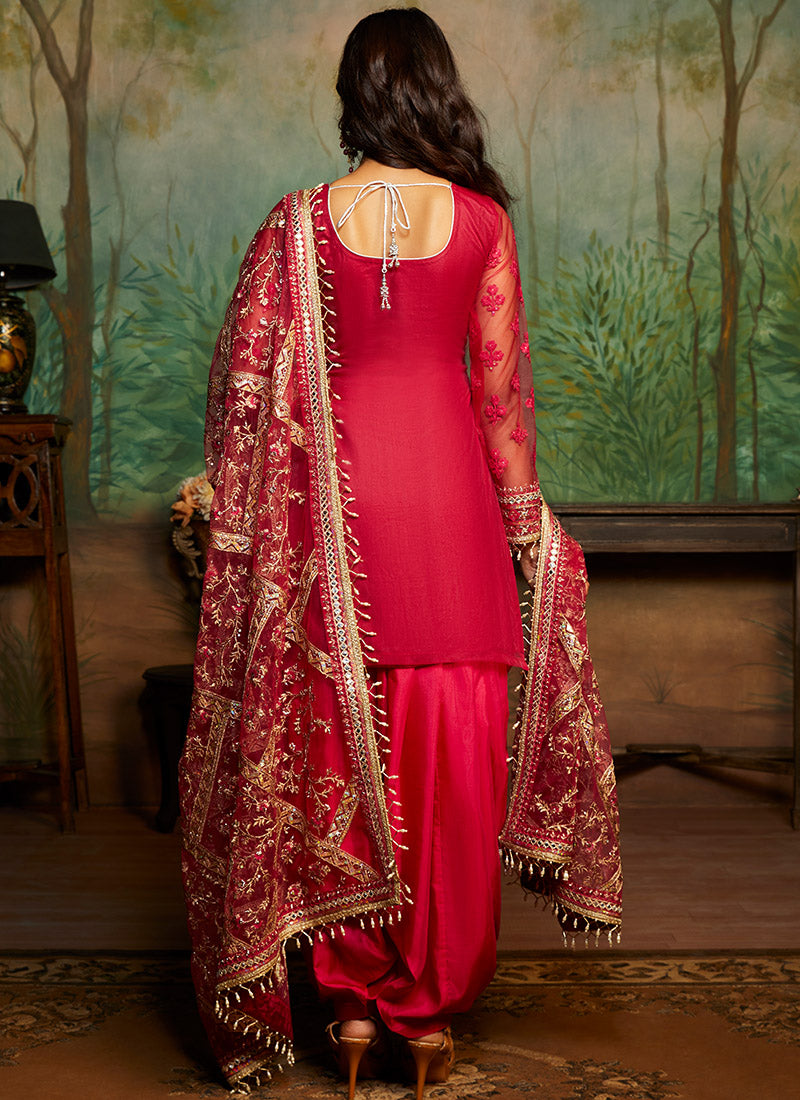 Women's Clothing Size Guide
| SIZE | BUST | AROUND ABOVE WAIST | AROUND WAIST | HIPS | US SIZE | UK SIZE |
| --- | --- | --- | --- | --- | --- | --- |
| XXS | 32" | 26" | 28" | 36" | 2 | 6 |
| XS | 34" | 28" | 30" | 38" | 4 | 8 |
| S | 36" | 30" | 32" | 40" | 6 | 10 |
| M | 38" | 32" | 34" | 42" | 8 | 12 |
| L | 40" | 34" | 36" | 44" | 10 | 14 |
| XL | 42" | 36" | 38" | 46" | 12 | 16 |
| XXL | 44" | 38" | 40" | 48" | 14 | 18 |
| 3XL | 46" | 42" | 44" | 51" | 16 | 20 |
| 4XL | 48" | 44" | 46" | 53" | 18 | 22 |
| 5XL | 50" | 46" | 48" | 55" | 20 | 24 |
| 6XL | 52" | 48" | 50" | 57" | 22 | 26 |
Great fitting, colour and details