Eid Promise Style
Regular price
$1,350.00 USD
Regular price
Sale price
$1,350.00 USD
Unit price
per
Sale
Sold out
Size guide
Women's Clothing Size Guide
| SIZE | BUST | AROUND ABOVE WAIST | AROUND WAIST | HIPS | US SIZE | UK SIZE |
| --- | --- | --- | --- | --- | --- | --- |
| XXS | 32" | 26" | 28" | 36" | 2 | 6 |
| XS | 34" | 28" | 30" | 38" | 4 | 8 |
| S | 36" | 30" | 32" | 40" | 6 | 10 |
| M | 38" | 32" | 34" | 42" | 8 | 12 |
| L | 40" | 34" | 36" | 44" | 10 | 14 |
| XL | 42" | 36" | 38" | 46" | 12 | 16 |
| XXL | 44" | 38" | 40" | 48" | 14 | 18 |
| 3XL | 46" | 42" | 44" | 51" | 16 | 20 |
| 4XL | 48" | 44" | 46" | 53" | 18 | 22 |
| 5XL | 50" | 46" | 48" | 55" | 20 | 24 |
| 6XL | 52" | 48" | 50" | 57" | 22 | 26 |
Product Details

Style: LASHKARAACOUTURE-DN39

Color: Green

Fabric: Velvet

Embroidery: Print

Looking for a formal attire that is both functional and fuss-free? Our Light Green Embellished Velvet Anarkali has everything you need to look fabulous and feel comfortable. The halter straps accompanied by a deep sweetheart shaped neckline make for a silhouette that's sensual and feminine. The muted yellow gown-like pishwas has been accentuated with a generous spray of bold flowers, vines and butterflies. The tie and dye shades of the dupatta have been aesthetically coordinated with the floral elements of the frock. A can can inner has been stitched under the pishwas to accentuate the flare.

Like all of our pieces, this piece is made in India and checked by hand to ensure high quality.
Share
View full details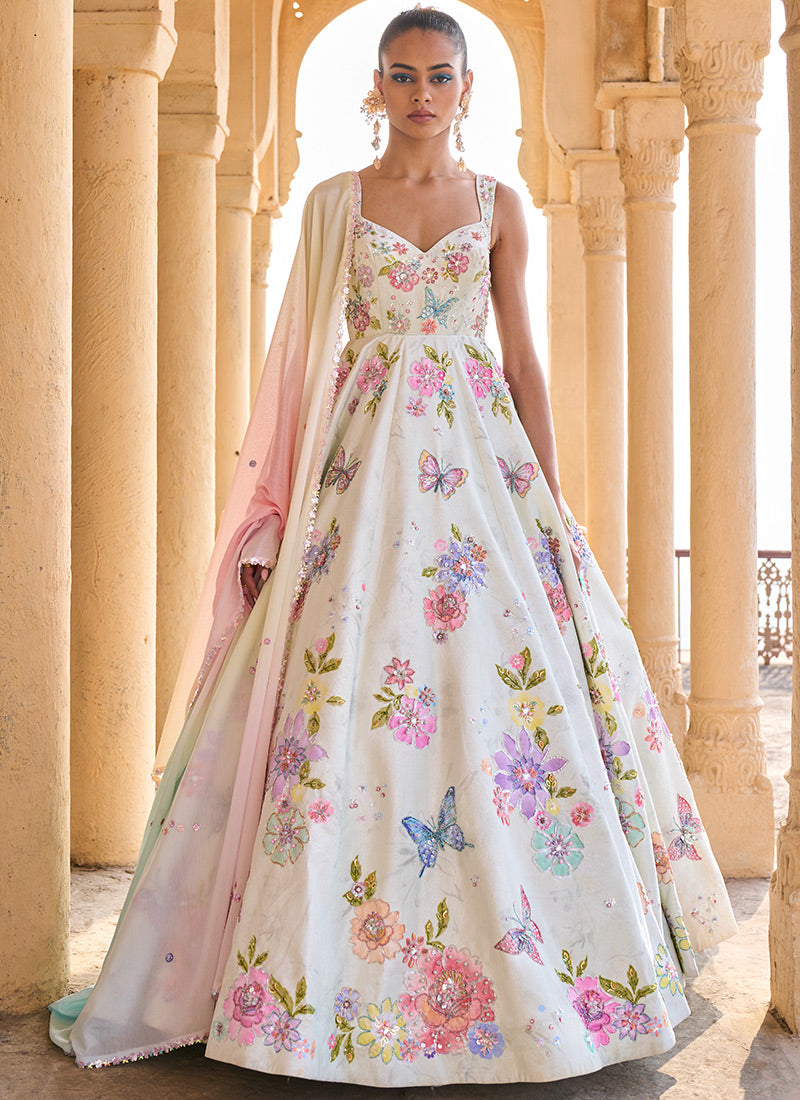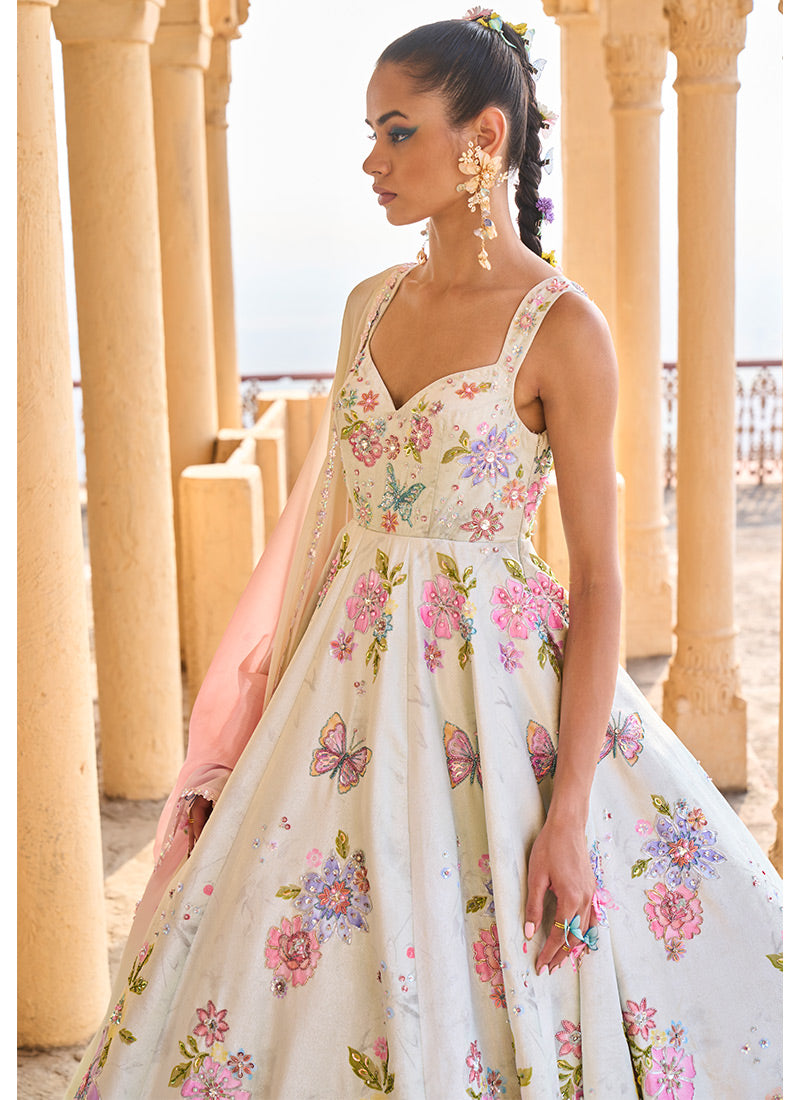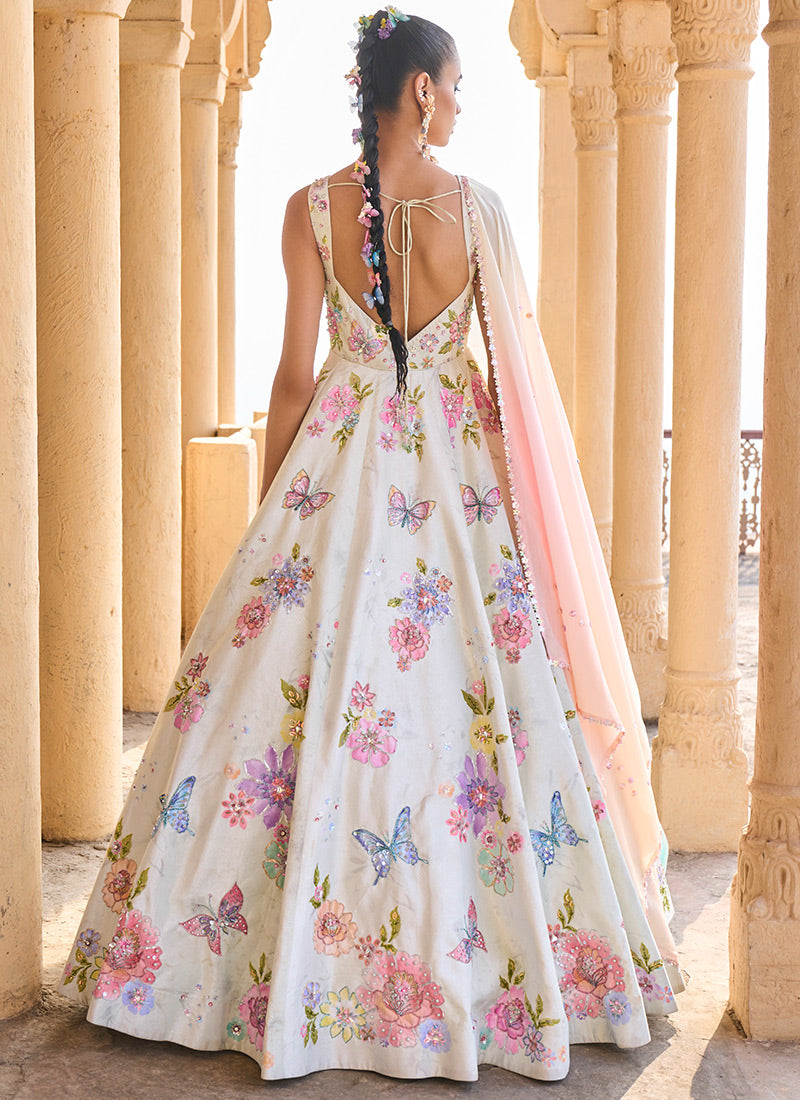 Diwali Promise - Guaranteed Delivery!
Diwali Orders Cut-off Date: Oct 22nd, 2023 11:59 PM PST
You must place your order by Oct 22nd, 2023 at 11:59 PM PST.
Only Items with the Diwali Promise text are eligible for the Diwali Promise guarantee.
In case of measurement clarifications, you must respond to our email within 24 hours in the case you have provided any incorrect measurements. If you delay responding to your email, you are delaying the processing of your order and Diwali Promise will no longer be applicable on your order.
Orders which are getting delayed due to product change requests or hold order requests, initiated by the customer, are not eligible for Diwali Promise
If the product being unavailable due to quality check issues or the product not being able to be stitched to your provided custom measurements, we will let you know within 72 hours of order placement and also request you to select an alternative Diwali Promise product to assure you have an outfit for Diwali. If you do not select any alternative product, we will refund and cancel your order.
Lashkaraa is not liable for delayed package deliveries caused by holidays, bad weather conditions, customs delays in your country, political turbulence or any other unexpected delays experienced by the shipping carrier. We do not own the shipping companies and have no control over these unexpected delays. If your order is delayed because you are not home, you have changed the delivery with the courier or you have not paid any applicable customs fees, you are liable for the delay.
Women's Clothing Size Guide
| SIZE | BUST | AROUND ABOVE WAIST | AROUND WAIST | HIPS | US SIZE | UK SIZE |
| --- | --- | --- | --- | --- | --- | --- |
| XXS | 32" | 26" | 28" | 36" | 2 | 6 |
| XS | 34" | 28" | 30" | 38" | 4 | 8 |
| S | 36" | 30" | 32" | 40" | 6 | 10 |
| M | 38" | 32" | 34" | 42" | 8 | 12 |
| L | 40" | 34" | 36" | 44" | 10 | 14 |
| XL | 42" | 36" | 38" | 46" | 12 | 16 |
| XXL | 44" | 38" | 40" | 48" | 14 | 18 |
| 3XL | 46" | 42" | 44" | 51" | 16 | 20 |
| 4XL | 48" | 44" | 46" | 53" | 18 | 22 |
| 5XL | 50" | 46" | 48" | 55" | 20 | 24 |
| 6XL | 52" | 48" | 50" | 57" | 22 | 26 |